By Franz Inc.
2 January, 2018
AllegroGraph News – January, 2018
---
In this issue
---


IEEE Publication – Transmuting Information to Knowledge with an Enterprise Knowledge Graph


The enterprise knowledge graph for entity 360-views has emerged as one of the most useful graph database technology applications when buttressed by W3C standard semantic technology, modern artificial intelligence, and visual discovery tools. Read this IEEE publication by Dr. Jans Aasman to learn more about Knowledge Graphs.
For additional information, see here
---


Franz Inc. – Named to Trend-Setting Products in Data and Information Management for 2018 by Database Trends and Applications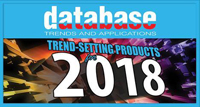 Today, innovative approaches, such as Hadoop, Spark, NoSQL, and NewSQL, are being used in addition to more established technologies, such as the mainframe, and relational and MultiValue database systems. In addition, artificial intelligence and machine learning capabilities are some of the newer approaches being introduced in products. To help bring these resources to light, each year, Database Trends and Applications magazine looks for offerings that promise to help organizations derive greater benefit from their data, make better decisions, work more efficiently, achieve greater security, and address emerging challenges. In total, this list of forward-looking products helps illuminate the path on which the data management market is headed.
For additional information, see:
---


Enterprise Data World – Taking Graphs to the Next Level with Artificial Intelligence and Machine Learning – April 22-27, 2018


The 22nd Annual Enterprise Data World (EDW) Conference hosted by DATAVERSITY® is recognized as the most comprehensive educational conference on data management in the world. Join hundreds of data professionals from around the globe to attend this unique conference. Your transformation to data-driven business starts here!
Franz CEO Jans Aasman will be presenting "Taking Graphs to the Next Level with Artificial Intelligence and Machine Learning".
Graphs and Knowledge Management have gained significant visibility with the rebirth of artificial intelligence and emergence of cognitive computing. By combining artificial intelligence, big data, graph databases, and dynamic visualizations, we will discuss deploying Graph
based AI applications as a means to help predict future events across numerous types of industries.
Knowledge creation via AI and Graphs stems from the capability to combine the probability space (i.e. statistical inference on a user's
data) with a knowledge base of comprehensive industry terminology systems. AI using Graphs are remarkable not just because of the possibilities they engender, but also because of their practicality. The confluence of knowledge via machine learning, visual querying, graph databases, and big data not only displays links between objects, but also quantifies the probability of their occurrence. We believe this approach will be transformative across numerous business verticals.
During the presentation we will describe the Graph based AI concepts that also incorporate Hadoop, along with analytics via R, SPARK ML and
other AI techniques for practical Enterprise predictive analytics use cases.
For additional information, see here
---
AllegroGraph 6.3 – Now Available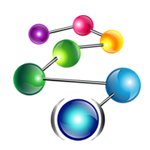 New Features Include:
Defining your own magic properties – AllegroGraph lets you define your own Magic Properties. The Defining Magic Properties Tutorial describes how to do this and provides numerous simple examples.
Improvements and new features in AGWebView, including the ability to add data by pasting in a text area, new report dialogs which detail storage usage and other things, a new index management page. See the 6.3.0 programmer notes for details of the changes to AGWebView.
Support for XQuery and XPath math functions.
CORS support: CORS (Cross-Origin Resource Sharing), if enabled, allows scripts run on a web page from one server to make HTTP requests to the (different) server where AllegroGraph is running.
For additional information, see here
---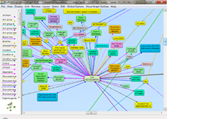 New Features Include:
The new command "Global Options | Show Non-Default Option Values" lists option values that you have changed from their defaults. That
may be useful for finding options that you might like to revert to their default values without reverting all options. (This list will
also be included in any bug report that Gruff generates.)
When using "View | Go Back" and "View | Go Forward" in the graph view, if "Visual Graph Options | Layout Options | Animate Layouts" is
enabled then the nodes will slide smoothly from one history state to the next.
Path-finding will now display paths that contain literals even when "Global Options | Miscellaneous | Treat Literals as Objects" is off
(as it is by default).
If you turn off the new option "Visual Graph Options | Inclusion Options | Include Literals of All Languages", then commands on the
Link menu will add literal nodes to the visual graph only when they have no language or their language tag is the "Global Options |
Miscellaneous | Preferred Language".
The option "Global Options | Node Label Predicates | Label Property Language" has become the more general "Global Options | Miscellaneous
| Preferred Language". It also has a new "Other" choice at the bottom for specifying any language, rather than being limited to the several choices in the list. (And the more obscure "Global Options | Localization Language" has been moved into the Miscellaneous child menu.)
The Global Options menu has two new child menus called "Node Label Type" and "Font". Like the "Timeouts" child menu that was already
there, these new menus contain options that appear elsewhere on the menu bar in scattered places, and are simply grouped in a different
way on these new menus to make it easier to find all of the options of their kind.
The keyboard shortcut for doing a tree layout is now T with no shift key, to correspond to the other layout commands that also use no shift
key. This means that the keyboard shortcut for going to the table view is now B instead of T.
The new option "File | Load Triples | Base URI for RDF/XML and Turtle" allows you to specify the base URI that will be passed to AllegroGraph when using the commands for loading triples from RDF/XML files or turtle files.
Changes to the time chart: (1) Fixed: The time chart could break in certain cases while adjusting the time bar range or resizing Gruff
while the time chart is present. (2) The time chart has been improved stylistically, such as by placing each date label in the middle of its time range rather than at the beginning of it. (3) The new command "View | Optional Graph View Panes | Show Time Chart" (with its
keyboard shortcut) allows more quickly toggling the time chart on and off than by clicking the button for it on the time bar.
The new option "Visual Graph Options | Finding Paths Between Nodes | Maximum Paths to Find" causes path-finding to return if it has found
that many paths, to avoid wasting time finding additional paths that you would not display anyway. This option will not have an effect
until AllegroGraph 6.3.1 is out and Gruff is built on it.
For additional information, see the Gruff Documentation
---


Dataconomy article – Triple Attributes: A New Way to Protect the Most Sensitive Information


Semantic Graph Databases are now common in many industries, including life sciences, healthcare, the financial industry and in government and intelligence agencies. Graphs are particularly valuable in these sectors because of the complex nature of the data and need for powerful, yet flexible data analytics.
Attributes, user attributes and static filters are a new mechanism for graph databases to protect sensitive information. This combination provides the right amount of power and flexibility to address high-security use cases, such as: HIPAA access controls, privacy rules for banks, security models for policing, intelligence and the government. In addition, this set of methods is far easier to use,
provides more expressiveness than security methods in relational databases and doesn't suffer from performance degradations.
To read the full article,
see here
---


Datanami article – Why Enterprise Knowledge Graphs Need Semantics


The Enterprise Knowledge Graph concept strikes at the core of what every data-driven organization is trying to do: translate data assets into a competitive advantage unique to those assets and the company itself.
By effectively connecting enterprise-wide data—both internal and external—into a sole repository reusable for a variety of use cases
across an organization, Enterprise Knowledge Graphs are the single most effective mechanism for accomplishing this objective. The
proliferation of use cases spanning Silicon Valley's finest proves this point as well as the business value of this methodology.
To read the full article,
see here
---


Franz Inc. named to The Silicon Review 50 Fastest Growing Tech Companies 2017


Franz Inc., an early innovator in Artificial Intelligence and leading supplier of Semantic Graph Database
technology – AllegroGraph, announced that it has been named to The Silicon Review 50 Fastest Growing Tech Companies 2017
– Delivering Scalable Knowledge Graph solutions Franz Inc...
Read more
</p
---


Big Data 50 – Companies Driving Innovation in 2017 – Franz Inc.


Used by Fortune 500 companies that span healthcare, intelligence agencies, life sciences, telecommunications, and research
organizations, Franz provides AllegroGraph, a high-performance and transactional semantic graph database, and Allegro CL, a Lisp
programming environment to create complex applications for solving real-world problems.
AllegroGraph is a database technology that enables businesses to extract sophisticated decision insights and predictive analytics from
highly complex, distributed data that cannot be uncovered with conventional databases. Unlike traditional relational databases or
other NoSQL databases, AllegroGraph employs semantic graph technologies that process data with contextual and conceptual
intelligence. AllegroGraph is able run queries of unprecedented complexity to support predictive analytics that help organizations
make more informed, real-time decisions.
To read the full article, see here
Back to Blog
Related articles